With unique design and carefully selected materials, the HEGU Dry Needle is optimised for Dry Needling. All HEGU Dry Needles are produced in high tensile strength Japanese surgical stainless steel and feature a uniquely sharp, diamond-cut tip that provides extremely high precision.
The combination of the wheat shape of the cut point, a very thin layer of medical silicone and a stable handle makes the HEGU Dry Needle easy to insert and apply.
Practitioners experience superior tactile feedback from the HEGU Dry Needle, also reporting that it is easy to insert and penetrates the "dense muscle knots" more efficiently, giving better results and greater patient satisfaction.
Sterilised with ethylene oxide gas. Sterility 3 years after manufacturing date. Note: for single use only!
With tube
1-pack. Individually packed with one needle and one guide tube per blister. 5 needles per sheet, 100 pcs per box.
Dry Needling and acupuncture are two different types of treatment methods and thus require separate training and knowledge.
What is Dry Needling?
Dry Needling is an established treatment technique whereby a sterile, single-use, fine "dry needle" (without medication or injection) is inserted into the muscle to assist with alleviating pain and improving function through the release of myofascial trigger points (knots in the muscle).   
Other terms commonly used for Dry Needling are trigger point Dry Needling and intramuscular manual therapy.
Dry Needling stems from western medicine principals and scientific conclusions. The technique of Dry Needling has no historical ties to acupuncture.
Dry Needling is not a new concept. As far back as 1942, medical doctors Janet Travell and David Simons first published the method of injections into trigger points in the USA. The wider use of "dry" needling started after a study in 1979 by a Czech physician, Karel Lewit.  Dr. Lewit concluded that the effect of injections was primarily caused by the mechanical stimulation of a trigger point with the needle alone (not the medication being injected). Since then, Dry Needling has been extensively used for the treatment of trigger points.
From origins in "wet" trigger point injections performed by physicians grounded in western medicine, to the use of a "dry" fine filament needle by specially trained physical therapists, the technique of Dry Needling has had a fascinating evolution. Now, by omitting unnecessary medication (and associated side effects), Dry Needling has established itself as a treatment that is minimally invasive and cost effective.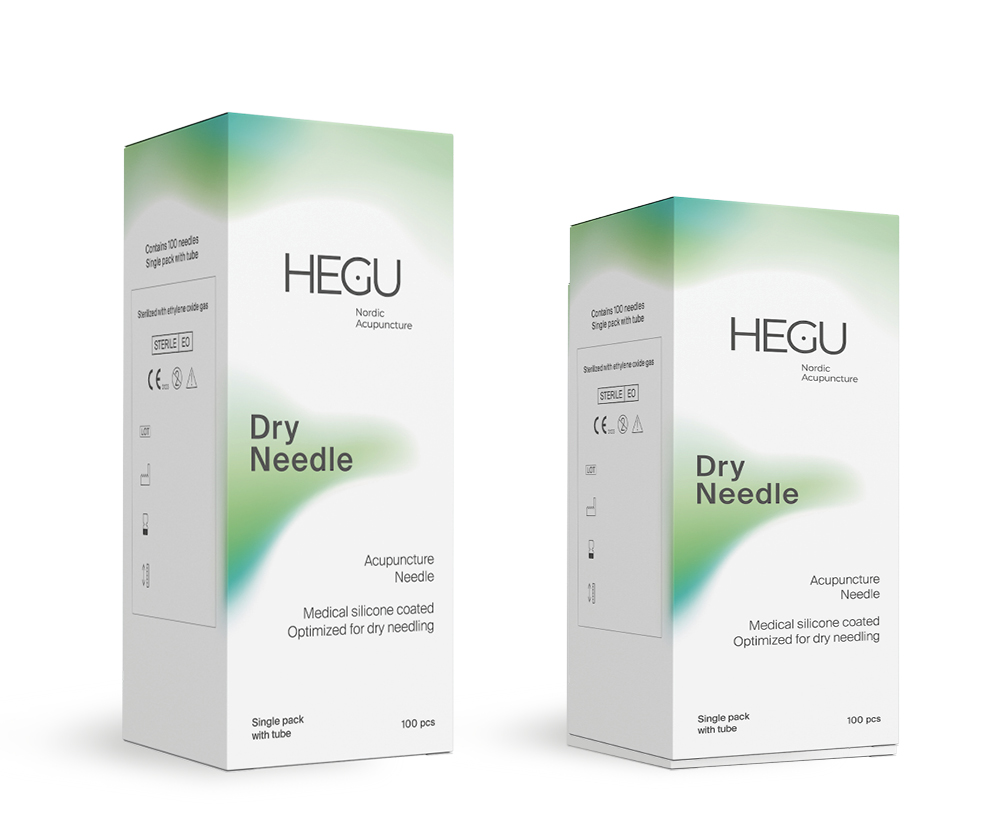 1-pack. Individually packed with one needle and one guide tube per blister.
5 needles per sheet, 100 pcs per box.
0,30 x 30 mm
0,30 x 40 mm
0,30 x 50 mm
0,30 x 60 mm
0,40 x 75 mm
Samples - try out the needles before you buy.
Contains a collection of different sizes of the Dry Needle.